Another craigslist find.. WhooHoo! Just what I wanted for $10 and a little fuel to meet the lady selling both of them.
The little one I have had , but the large one  I purchased from craigslist as well.
They will be a charming addition to my garden and greenhouse. Now if the sun would just stay out a while so I can get out there and finish what I've started.
I would like to find a little cart to add to the whole outdoor theme. Something like this:
I
I have an old radio flyer wagon similar to this :
Other outdoor carts I like: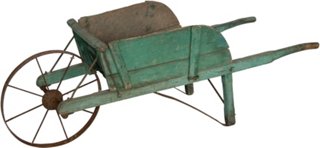 So I will be on the search for one of these beauties and let me know if you spot one in your treasure hunting adventures.
Have a great first weekend of Spring!
Linda