Since I had been gone for a week I had some errands to run and while I was out and about stopped by our local Marshall's. You never know what you will find there. Somedays I find plenty of treasures for myself or clients and other days I leave empty handed. I had been watching their furniture section which mostly contained a few chairs and some garden pieces. I had my eye on these two chairs that were very similar to ones I had admired at Restoration Hardware for about $480 a piece with cushions. Still they were priced at $159 each,a deal compared to Restoration Hardware. However  they were still a stretch for any impulsive splurge since I wasn't sure exactly where I would put them.  I kept them in mind knowing that one day they are there and often gone the next.
Here is the Restoration Hardware version: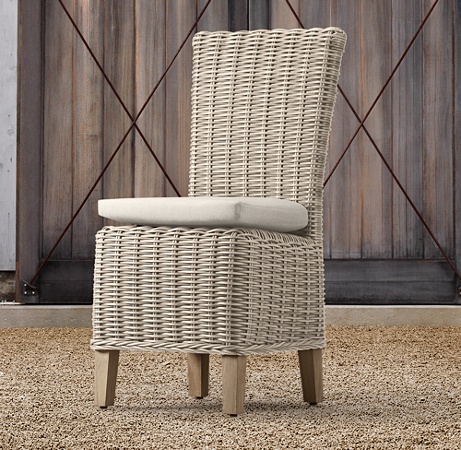 Well it must have been meant to be, because they were still there today and marked down to $60 each. I scooped those babies up and brought them home to my little abode.
While we were in Newport Beach I saw the style in many a courtyard or around a dining table indoors. I think that inspired me to purchase them and incorporate them in my house for Spring and Summer.
There are a few places they would work in my house , but I put them in the breakfast nook for now. What do you think?
Have a great weekend!
Linda